R E F E R E N C E S
Many Czech and multinational companies of all sizes and from many industries have been satisfied with our services. Our individual, personal approach and care will make the difficult process of personal or corporate gift selection a simple task for any customer.
We are intentionally not disclosing the full list of our customers since the presents and their giving is a purely private affair. However, we are proud to give you one specific reference. In November 2002, at the NATO Summit in Prague, Radio Free Europe presented former or then-presidents and other high-ranking politicians with gifts that we had produced. Madelaine Albright and Eduard Shevarnadze were among the recipients.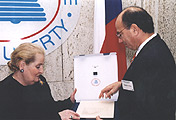 More work samples delivered to important clients can be found here.